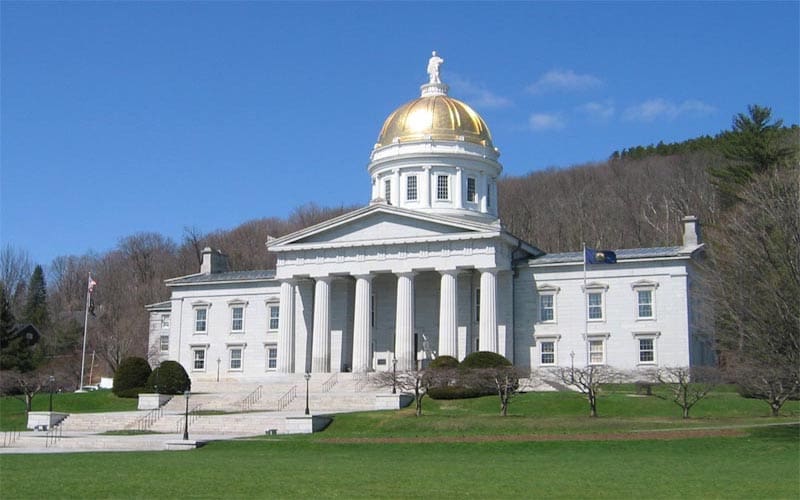 February 21, 2020 (MONTPELIER, VT) – A coalition of environmental and business groups released the following statements today after Vermont's House of Representatives overwhelmingly voted in favor of the Global Warming Solutions Act, a critical piece of legislation that will slash climate-damaging emissions, grow jobs, help rural and low-income Vermonters, and build resilient communities throughout the state.  The vote garnered the support of Democrat, Republican, Independent, and Progressive legislators.  The groups commend House Leadership, Representatives Briglin and Sibilia, and the Climate Solutions Caucus for their strong support and leadership in moving this important bill forward with a 105-37 vote.
"The climate emergency is already impacting our communities," said Jen Duggan, Vice President and Director of CLF Vermont. "If we're serious about tackling this crisis, strong climate laws like the Solutions Act are the answer. We are running out of time, but the strong vote today and the leadership in the House shows we can still get back on track to cut emissions and build healthy and resilient communities if we take action now."
"As we know from recent polling, Vermonters are very concerned about the climate crisis and want the state to take meaningful action. We're excited by the strong vote in the Vermont House to advance the Global Warming Solutions Act. This bill sets a critical framework for action by making state government responsible and accountable to meet Vermont's climate pollution reduction targets and improve our communities' resilience," noted Lauren Hierl, executive director at Vermont Conservation Voters.
"Today a strong majority of House members voted to take the climate crisis as seriously as it warrants," said Johanna Miller, energy and climate program director at the Vermont Natural Resources Council. "Every year of insufficient, incremental action means greater costs and consequences for young people and future generations. This bill will ensure Vermont does its part to tackle the climate crisis, strategically and equitably. We believe the Senate is ready to review the bill and move it to the desk of Governor Scott, who committed Vermont to achieving our climate goals years ago."
"Today the House took a major step towards a new era, with Vermont's elected officials not just recognizing global warming for the emergency that it is, but also consistently taking the actions necessary to cut our own climate pollution while making our communities and our state more resilient to the coming effects of this global crisis," said Ben Edgerly Walsh, climate and energy program director with the Vermont Public Interest Research Group. "We're looking forward to working with the House, the Senate, and the Governor to see the Solutions Act and the whole Climate Solutions Caucus platform enacted into law this year, because that's what this crisis requires."
"The Global Warming Solutions Act advances important requirements for both climate mitigation efforts, as well as climate adaptation initiatives focused on resilience. It recognizes the critical role that nature can play in sequestering and storing carbon, and puts Vermont back on track to playing a leadership role in tackling climate change," said Lauren Oates, Climate and Energy Policy Manager at The Nature Conservancy in Vermont. "TNC commends the House for their strong support of this important piece of legislation, as well as Reps. Briglin and Sibilia for their leadership in moving it forward."
"Climate change is without question the greatest threat to Vermont's economy, environment, and our shared way of life—yet climate action presents us with one of the greatest wealth-generating opportunities of our time. Our member businesses across the state are already feeling the impacts of this crisis but are seeing the benefits of investing in energy independence," said Jordan Giaconia, Public Policy Manager with Vermont Businesses for Social Responsibility. "The Global Warming Solutions Act creates a framework of local investment, equity, and accountability that will address the growing climate crisis and strengthen Vermont's economy along the way. We applaud the House for their strong support."
The Global Warming Solutions Act will put Vermont on the path to net-zero carbon emissions by 2050 by turning greenhouse gas reduction goals into mandatory requirements. The bill mandates state action to reduce carbon pollution across all sectors of the economy, build healthy and resilient Vermont communities, and ensure that rural and low-income communities are not disproportionately impacted by the climate crisis.
Experts are available for further comment.
###