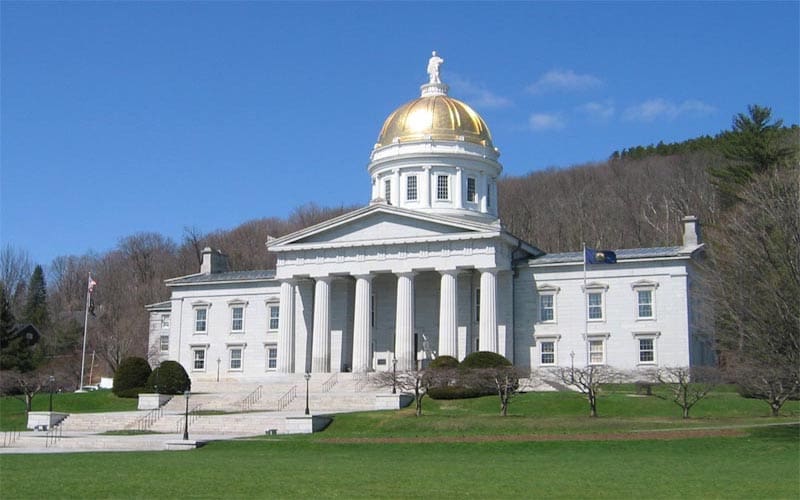 September 15, 2020 (MONTPELIER, VT) – Governor Scott has vetoed the Global Warming Solutions Act, which was overwhelmingly passed by both the Vermont House and Senate. The historic climate bill requires Vermont to reduce its climate-damaging emissions while simultaneously creating jobs, improving community resilience, and reducing energy burdens for rural and marginalized communities. Reducing greenhouse pollution and investing in our resilience will have significant public health benefits including saving lives, improving respiratory and cardiovascular health, reducing toxic exposures, and boosting mental health.      
Massachusetts, Connecticut, New York, and Maine already have similar laws on the books. Meanwhile, Vermont is falling behind and has the highest climate emissions per capita in the region. The reasons for the veto are unfounded and have been repeatedly disputed during the legislative process by legal and scientific experts.  
A coalition of groups in support of the law released the following statements, calling on the Legislature to override the Governor's veto of the Global Warming Solutions Act.
"Vermont is utterly unprepared for the climate crisis and our most vulnerable communities will pay the highest price if we fail to act," said Jen Duggan, Vice President and Director of Conservation Law Foundation Vermont. "We must invest in smart climate solutions that put people to work and safeguard our communities while preparing us for future disasters, and this bill will do just that. Our legislators followed the science and voted overwhelmingly to support the Solutions Act, and they must override this irresponsible veto."
"It is shameful that Governor Scott closed his eyes to the reality that our siblings are burning on the west coast due to the very issue he refuses to act on. By attempting to block action on this urgent crisis, he is part of taking away our chance for a better future," said Gabe Groveman, a Montpelier High School student and member of Vermont Youth Lobby. "The students of Youth Lobby should be learning about how leadership works, not giving Governor Scott a lesson on it."
"Our nation is literally on fire, leaving millions of our fellow Americans fleeing their homes and gasping for clean air. We must act on climate, now," said Vermont Natural Resources Council's Energy & Climate Program Director Johanna Miller. "I am grateful to legislators who recognize the opportunity this bill offers to put Vermonters to work in well-paying jobs, create more energy equity, reduce people's transportation and fuel costs and build more resilient, climate-ready communities, and I thank them for acting swiftly and decisively to override this veto."
"Governor Scott has repeatedly touted his following-the-science approach throughout the COVID-19 pandemic as the reason Vermont has done so well. But if he's going to trust in the science, he needs to apply it across the board," said Lauren Oates, Climate & Energy Policy Manager at The Nature Conservancy in Vermont. "Climate change is here, we are feeling the impacts both across the world and at home, and action cannot wait. We urge the Legislature to follow the science, exercise their authority as a separate branch of government, and override the Governor's veto of the Solutions Act. We need strong leadership now more than ever to ensure we build a more resilient economy and future that leaves no Vermonter behind."
"Governor Scott's veto represents not only a failure to recognize the urgency of climate action but also a missed opportunity to harness the economic, job-creating potential of moving off of fossil fuels and toward a clean energy economy," Said VBSR's Public Policy Manager, Jordan Giaconia. "Like any business building for the future, Vermont needs a strategic, equitable plan to reduce climate pollution and a framework of accountability to make sure we stick to it. The Global Warming Solutions Act would provide just that and we have no time to waste in bringing it to fruition. We urge the legislature to honor their continued commitment to a green, prosperous Vermont and override this veto." 
"While the World Health Organization and the Center for Disease Control warn us about the unprecedented public health risks of our warming planet, Governor Scott refuses to see what is coming at us," said Dan Quinlan, director of the Vermont Climate and Health Alliance. "Governor Scott's veto of H.688 today is an egregious repudiation of science and common sense. I urge lawmakers to move swiftly to override this shortsighted veto and ensure this bill becomes law. The cost of climate change for Vermonters, both in dollars and to the health of our children is skyrocketing with each passing year. We are running out of time."
"This is ridiculous. Either Governor Scott intends to hit the climate targets he voted for as a State Senator and repeatedly stated he supports as Governor, or he doesn't," said Ben Edgerly Walsh, climate and energy program director for VPIRG. "Today's veto of the Solutions Act makes it abundantly clear that Gov Scott has no intention of walking the walk when it comes to the climate crisis."
"The climate crisis is a man-made disaster that we must boldly respond to secure any meaningful future for our state," said Kiah Morris, Movement Politics Director, Rights, and Democracy Vermont. "Universally, the people most impacted by the effects of our climate crisis are those from our most marginalized communities who contribute the least to its continuance. Vetoing this widely-supported and necessary bill sends a clear message to many Vermonters that their lives are transactional and disposable. It is unconscionable to act in a manner that continues to prioritize profits over people and the planet at this crucial moment. We look to the Governor to do the right thing for all of our sakes."
"It's disheartening to see in a time when the entire planet is coming together to fight climate change and a global health pandemic, Governor Scott's choice is to follow the lead of Donald Trump by vetoing a policy that would ensure Vermont meets its climate goals and protects our economy," said Robb Kidd, Sierra Club Vermont Conservation Program Manager. "We expect better from our elected officials in Vermont."
Experts are available for further comment.
###