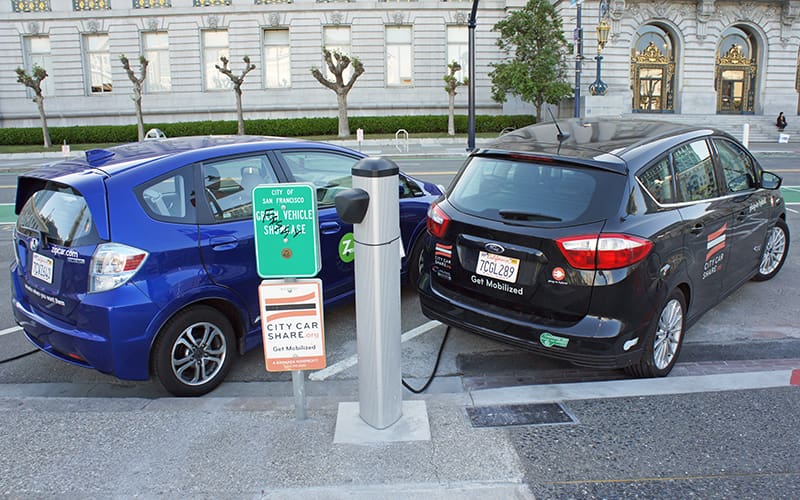 Last week, in the waning hours of the Massachusetts General Court's informal legislative session, lawmakers passed a bill dedicated to promoting electric vehicles (or "EVs").  S.2505, "An Act promoting zero emission vehicle adoption," is a positive step forward toward a cleaner, electrified, more consumer-friendly transportation future.
The bill is aimed at helping communities across the Commonwealth promote the charging infrastructure necessary to support more electric cars.  Increasing drivers' access to charging stations is critically important to helping Massachusetts achieve its commitment to putting 300,000 electric cars on our roads by 2025.  Massachusetts consumers want electric cars, but convenient access to charging stations is a barrier.  More charging stations would also help alleviate "range anxiety" (the fear that you won't be able to find a charging station when you need to fuel up) that can keep people from switching to an electric car.
Among other things, the newly-passed bill would:
Promote public access to electric-vehicle charging stations by prohibiting operators from charging subscription fees and requiring operators to provide payment options that are accessible to everyone.
Require charging station operators to share information about charging so we can learn more about how consumers interact with charging, and develop smarter policies in the future.
Allow communities to establish "EV-only" parking spaces to promote electric vehicles and access to charging stations.
Authorize an update of the state building code to make it easier, safer, and cheaper for families and businesses to install their own charging stations.
Even though the bill is but modest progress forward, every step forward is important. Electrification of transportation is critical to achieving our state's ambitious climate pollution-reduction mandates.  Massachusetts must reduce greenhouse gas emissions 25 percent below 1990 levels by 2020 and 80 percent by 2050.  Transportation is the single largest contributor to Massachusetts' greenhouse gas emissions, accounting for more than 40 percent of total emissions.  By promoting access to charging, the bill recognizes the importance of addressing climate change by expanding EV charging infrastructure in our state.
And if, as a consequence of this bill, the State Board of Building Regulations and Standards exercises its authority to update the state building code to accommodate EV charging, that would be a major victory indeed.  "EV-ready" building standards recognize the important and growing role that buildings play in our energy and transportation systems.  Between 2013 and 2016, the number of EVs in Massachusetts has tripled, and EV ownership continues to grow.  More people are fueling their cars at home with electricity.  As the connection between buildings and transportation grows in Massachusetts, an EV-ready building code is essential to reduce construction costs and promote energy conservation.  An updated building code would serve the needs of future residents and businesses, attract economic growth, and help ensure our state's long-term prosperity.  CLF will continue to advocate in Massachusetts and across New England for sensible, forward-looking building standards that reduce climate emissions and promote access to clean transportation for everyone.
Take action for electric vehicles! Call Governor Charlie Baker to ask him to sign this important bill into law.