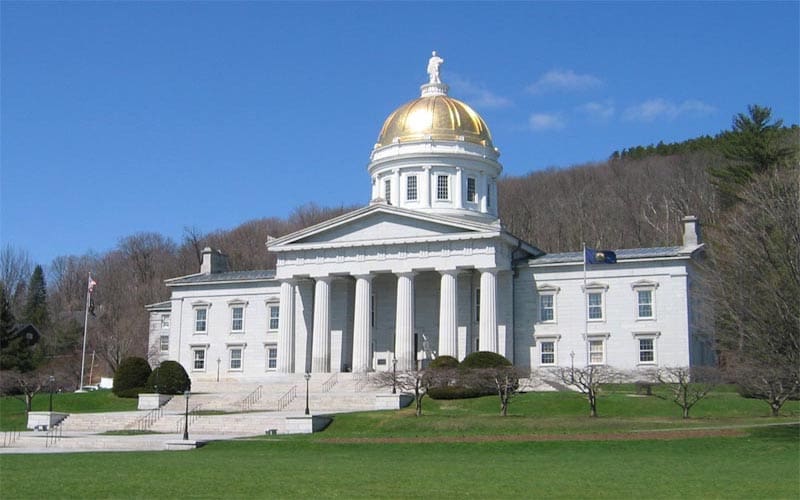 Update: Governor Scott has signed the lead, plastics, and clean water funding bills into law.

This legislative session was full of historic victories for the people of Vermont. Our legislature passed three of the strongest pollution protection laws in the country, setting the standard for New England and the rest of the country. CLF helped pass these laws to protect communities across Vermont by:
Preventing childhood lead poisoning in schools and childcare centers;
Banning the distribution of single-use plastic bags, plastic straws and stirrers, and toxic foam containers; and
Helping keep our drinking water free of dangerous PFAS chemicals, which have been linked to cancer and other serious health problems.
The laws tackle different types of toxic pollution in our communities — and they are the strongest laws of their kind in the U.S.
In addition, the legislature finally took long-overdue action to fund clean water initiatives to help restore our iconic Lake Champlain and other waterways to health.
As Vermonters welcome summer and legislators pack up and travel home for the season, we're celebrating these victories. We're also ready to keep fighting for stronger solutions to the climate crisis, which the legislature failed to take action on this session.
Strongest Toxic Pollution Laws in the U.S.
Protecting Our Children from Exposure to Lead in Drinking Water
Lead is often lurking in the water our children drink at schools and childcare centers. No level of lead is safe, especially for children, and exposure to even very low levels can result in lifelong, irreversible consequences. Lead poisoning can cause attention disorders, loss of IQ, and delayed learning, as well as behavioral, kidney, and hearing problems.
Until now, schools and childcare centers have not been required to clean up unsafe levels of lead in their drinking water. Act 66 requires that all schools and childcare centers—public and private—test all taps that could be used for drinking or cooking by December 31, 2020. Testing will be required on a regular basis after the initial round of testing is complete. Schools and centers must shut off any tap that contains lead concentrations of 4 parts per billion or higher. That tap must then be cleaned up or taken out of service permanently. The bill also requires transparency and reporting from the Vermont Department of Health to teachers, parents, and the general public on the results of the testing and clean-up efforts.
Keeping Toxic "Forever Chemicals" Out of Our Drinking Water
PFAS—per- and polyfluoroalkyl substances—have shown up in drinking water supplies and private wells in Vermont and across the U.S. due to broken federal chemical safety rules. Called 'forever chemicals' because they never fully break down in our environment, PFAS have been widely used in nonstick cookware, water-repellent clothing, and some firefighting foams. PFAS are suspected carcinogens and have been linked to a host of health problems, from fertility issues to harming the immune system.
With Act 21, Vermont water systems now must be tested for five toxic PFAS and treated for unsafe levels of these dangerous chemicals. The law also requires comprehensive testing for PFAS at public water systems by December 1, 2019, includes a process to evaluate the regulation of PFAS as a class or subclasses, requires a statewide investigation of PFAS sources, and provides the Agency of Natural Resources with additional tools to protect Vermonters from emerging contaminants.
This is a critical first step in protecting our health and our environment from these dangerous chemicals. With more than 4,000 PFAS in this class of chemicals, however, we have more work to do to eradicate this threat fully.
Reducing Dangerous Plastic Pollution
Plastic pollution harms people, wildlife, and the environment. It's made from fossil fuels, making it a harmful material even from its moment of manufacture. If present rates of plastic production continue, the annual carbon-damaging emissions generated from the plastic life cycle will be equivalent to 615 coal-fired power plants by 2050.
What's more, the plants that make plastics release toxic chemicals during production – and we can be exposed to these and other dangerous chemicals when we consume food or drinks in plastic containers. After this plastic is discarded – often after only a few minutes of use – it makes its way to landfills or incinerators, where it can contaminate the air and water of nearby communities, or end up as litter on our streets, in our parks, and in our waterways.
Act 69 tackles four of the most common single-use plastics by banning plastic bags, stirrers, and toxic polystyrene food packaging and making plastic straws available only on request. The ban on plastic bags applies to all plastic bags that do not have stitched handles, which will prevent the plastic bag industry from circumventing the law by flooding our communities with thicker bags. The legislation requires stores to charge 10 cents for paper bags, which will help incentivize the use of reusable bags.
Critical Funding for Clean Water Projects Secured  
Our beautiful lakes and rivers belong to all Vermonters and are critical to sustaining a strong economy and healthy communities. Unfortunately, Lake Champlain and other Vermont waters are in crisis. Unsustainable land use practices load our waters with pollution like chemicals, salts, nutrients, and animal waste, wreaking havoc on the health of our lakes and ponds. During the summer, we are regularly confronted with toxic blue-green algae (cyanobacteria) outbreaks that threaten the health of people and wildlife.
After punting on this issue for years, the legislature finally committed to addressing our clean water obligations with a long-term funding solution. Act 76 sets aside up to $60 million each year to clean up our waters and creates an important framework for distributing the money for clean water projects with transparency and accountability. While the funding plan is not without its flaws, the law builds clean water into the State's base budget and includes a requirement for the Clean Water Board to seek additional funds if the cost of cleaning up Lake Champlain and other impaired waters exceeds this amount.
Failure to Take Meaningful Action to Curb Climate Emissions
Despite setting goals to cut carbon pollution a decade ago, climate-damaging emissions are on the rise in Vermont. To make matters even more urgent, our goals are nowhere near what is required to avoid the catastrophic consequences of climate change, according to the Intergovernmental Panel on Climate Change.
With climate action stymied at the federal level, states must take the lead. Unfortunately, Vermont is not on track to meet this challenge, and the legislature failed to take serious steps to address the climate crisis this session. Although CLF worked with legislative champions to introduce bills in both chambers that would turn Vermont's goals into clear mandates to cut carbon pollution, they did not advance out of the committee room. Carbon pricing solutions and meaningful action to cut emissions from the transportation sector also failed to make progress.
Instead of the bold action required, the legislature delivered a few bills that should provide some small, incremental progress on meeting climate challenges. Tackling one of the most cost-effective ways to curb climate emissions, lawmakers approved investing several million dollars to tighten up homes of low- and moderate-income Vermonters. Keeping heat inside homes makes them healthier and more comfortable and cuts pollution. The legislation also creates a foundation for the expansion of and more coordinated energy efficiency so we all can use less energy and pollute less.
Additionally, this year's budget includes at least $1.1 million to be used for electric vehicle incentives specifically making this money available for low- and moderate-income Vermonters.  While these bills are a small step in the right direction, we will continue to fight for strong solutions to address the climate crisis when the legislature returns in January.
After this legislative session, Vermonters will be better protected from pollution when the Governor puts these laws on the books, whether it's from lead or chemicals or plastic. We now have a strong framework in place to fund the cleanup of our waters. And we're ready to build on this progress and pass meaningful climate legislation next session.
You can stay up to date on CLF's work in Vermont by subscribing to our newsletter here.