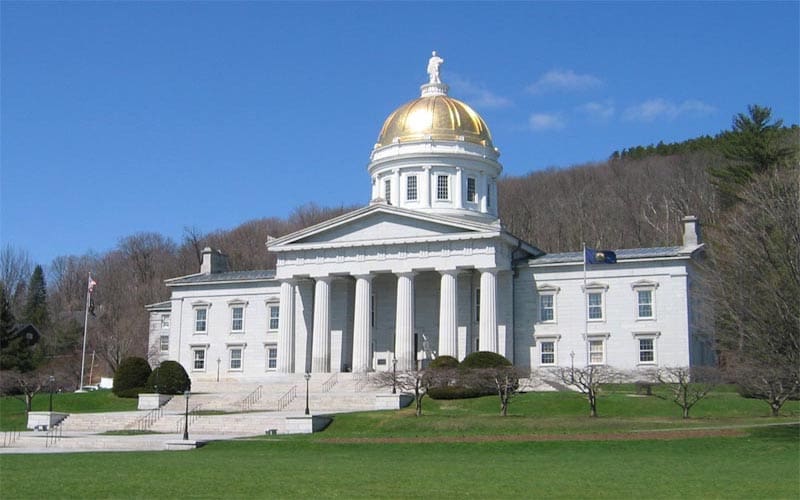 One of CLF's most critical roles is working with lawmakers to advance solutions that protect our natural resources, build healthy communities, and sustain a vibrant economy on behalf of all Vermonters. Last year, CLF helped pass three of the nation's strongest pollution protection laws that reduce childhood lead exposure, curb dangerous plastic pollution, and help keep our drinking water free of dangerous PFAS chemicals. As the Vermont General Assembly reconvenes for the second half of the biennium on January 7, we're ready to build on these major victories.
This session, our efforts are focused on cutting carbon and limiting plastic pollution even more. We will also work to make protections from toxic "forever chemicals" even stronger. Finally, we will defend against efforts to roll back wetland and other water quality protections and safeguard our critical land-use law.
Here are our top priorities for the upcoming session.
Take Bold Action to Slash Climate-Damaging Emissions
Despite setting goals to cut carbon pollution a decade ago, climate-damaging emissions are on the rise in Vermont. The Intergovernmental Panel on Climate Change (IPCC) has determined that instead of cutting our emissions 80% by 2050 – as nations around the world agreed to in the 2016 Paris Climate Accord – we must eliminate all carbon pollution by 2050. Goals alone are not enough, and we need bold action now to put Vermont back on track to meet this challenge.  There is no time to waste.
That's why CLF's top priority this year is to pass the Global Warming Solutions Act, which builds on the success of other New England states in cutting carbon pollution. This bill will put us on the path to net-zero emissions by 2050 by turning our greenhouse gas reduction goals into mandatory requirements. It will create a transparent accountability framework to reduce carbon pollution across all sectors, while also building healthy and resilient Vermont communities and prioritizing resources to communities that are disproportionately impacted by the climate crisis.
We will also be supporting legislation that cuts pollution from the transportation sector, promotes energy efficiency, and moves us closer to 100% renewable energy.
Protect Vermonters from Toxic "Forever" Chemicals
PFAS—per- and polyfluoroalkyl substances—have shown up in drinking water supplies and private wells in Vermont and across the U.S. due to broken federal chemical safety rules.  Called "forever" chemicals because they never fully break down (including our blood), PFAS have been widely used in nonstick cookware, food packaging, water-repellent clothing, some cosmetics, some firefighting foams, and other commonly used products that resist grease, water, and oil.
PFAS are suspected carcinogens and have been linked to growth, learning, and behavioral problems in infants and children; fertility and pregnancy problems, including pre-eclampsia; interference with natural human hormones; increased cholesterol; immune system problems; and interference with liver, thyroid, and pancreatic function.
Last year, CLF led efforts to pass a law that requires water systems to test for these dangerous chemicals in drinking water. But because we are also exposed to these toxic "forever" chemicals in so many different kinds of consumer goods, we will be fighting to ban the PFAS class of chemicals in these products entirely.
Reduce Dangerous Plastic Pollution
Plastic pollution puts people, wildlife, and the environment in harm's way. Many of us are already well aware of the dangers single-use plastic poses for the ocean and marine life, but the scope of harm extends well beyond the ocean. Plastic is made from fossil fuels, and, if we don't change course, plastic production and incineration could emit 2.8 gigatons of carbon emissions every single year by 2050—that is more than 600 500 MW coal-fired power plants combined. Unless we deal with our plastic habit, we have no hope of avoiding the catastrophic consequences of climate change.
The plants that manufacture plastics also release toxic chemicals during production, and we can be exposed to dangerous chemicals when we consume food or drinks in plastic containers. After this plastic is discarded—often after only a few minutes of use – it makes its way to landfills or incinerators, where they can contaminate the air and water of nearby communities, or end up as litter on our streets, in our parks, and in our waterways.
Last year, CLF helped pass the strongest state law in the country to reduce dangerous plastic pollution. The new law tackles four of the most common single-use plastics by prohibiting the distribution of single-use plastic bags, stirrers, and toxic foam containers, and making plastic straws available only on request.
CLF will build on this progress in the year ahead and advocate for aggressive statewide goals to reduce waste from single-use packaging and products. We will also push for a ban on all single-use food packaging and an expansion of Vermont's successful beverage redemption program to cover water bottles, wine bottles, hard cider, and sports drinks.
In addition, we will be working to pass legislation to put in place an extended producer responsibility program for single-use packaging. This program would take the sole burden of dealing with plastic waste off of cities, towns, and individuals by requiring manufacturers to pay for the safe management of the waste that they are creating. It would also provide incentives to reduce the volume of packaging and to boost the use of materials that have a low-carbon footprint, are non-toxic, and have a high recyclable content.
Protect Vermont's Wetlands
Vermont's wetlands work for us every day, protecting our communities from floodwaters, purifying the water we drink, and providing critical habitat for endangered species. Despite the benefits they provide, wetlands often come under attack as impediments to development and agriculture. The good news is that the Legislative Study Committee on Wetlands, convened by legislators during the 2019 session, recently decided against recommending changes to regulations to make it easier to drain and fill wetlands. We've averted one threat, but we'll have to remain vigilant for efforts to weaken wetlands protections during the upcoming session.
Keep Act 250 Strong
Vermont's land use law—Act 250—has provided important public health and environmental protections for our communities for decades. As Act 250 approaches its 50th birthday in 2020, legislators have spent the last two years examining opportunities to improve the law. As the legislature considers amendments, CLF will be working to keep Act 250 strong.
Help Us Move This Critical Work Forward
Over the coming months, CLF advocates will be in and out of the state house working with legislators and pushing forward these critical bills. But we know that your voice is the most powerful for lawmakers to hear.
Please, sign up for our email alerts so you'll be the first to know when you can make a difference by speaking up. And, if you're not a CLF member already, please consider joining us. Your support ensures we have the resources we need to protect Vermont's natural resources and build healthy communities together.